Check Artwork & Make Print Ready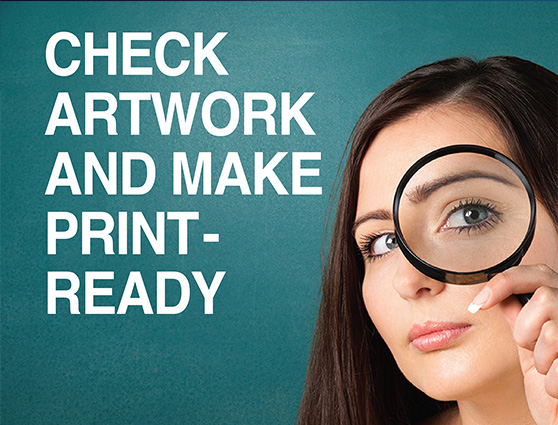 Unless your artwork has been prepared as a print ready artwork by a professional graphic artist, we recommend that you select this option to ensure artwork can be printed.
For a small cost, we can check your supplied artwork and make print ready.
What we will do:
We will ensure that your artwork is correctly prepared for commercial printing. This is limited to:
· If your artwork is the wrong size, and if your artwork allows us to do so, we will re-size your artwork to the correct size.
· If your artwork has no bleed, or incorrect bleed, where possible we will amend the bleed (internal and external) to be correct.
· If your artwork is supplied in the wrong colour space, we will convert it to CMYK.
· If there are missing fonts in your artwork, we will substitute any missing fonts with standard windows fonts.
· We will insert printer's trim marks on the artwork.
· It is your responsibility to spell check all supplied text and all soft PDF proofs. We will not spell check your artwork, and we cannot be held responsible for spelling mistakes or misalignment of text due to artwork being on a fold or in a die-cut or hole drilled area, not being prepared correctly or creep not being allowed for, in your final printing. This process does not include checking how your artwork is put together by designers. We will not be responsible for design errors.

We will then create a soft PDF proof for your approval. This will be supplied within 2 working days from receipt of final payment of your order. Please check your soft proof very carefully