Cost-effective Marketingwith Flyers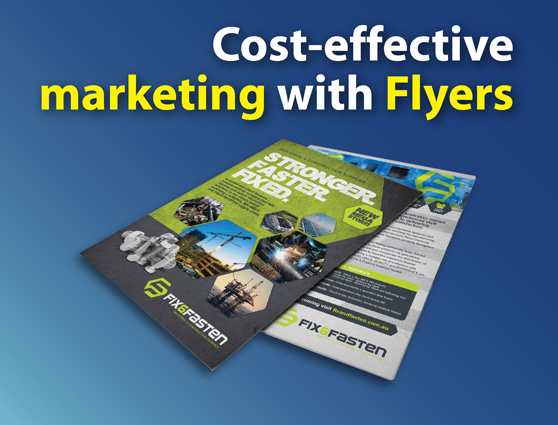 The ideal cost-effective tool for small business..
Making the Most of Marketing Flyers
One of the most widely used print marketing materials is a flyer, which is not only a means of marketing and promotion of the business; but is also a way of providing potential customers with more information about the enterprise.
What are flyers?
Flyers are printed leaflets that are usually colourful with graphics, presenting text and information about the company or its promotions. Most printed flyers are double sided and contain basic contact information about the company as well. Popular flyer sizes include DL (210mm x 99mm), A6 flyers (148mm x 105mm), A5 (210mm x 148mm) or A4 (297mm x 210mm). Normally A4 flyers will be folded down to A5 or DL size for easier insertion into letter boxes.
Using Flyers for Marketing
Flyers, when used properly can bring additional sales and customers for any business. Some of the most common ways to use flyers include:
Letterbox distribution in a targeted location utilising the services of a Flyer Distribution Company. Prices can range from $38+gst per 1,000 to over $80+gst per 1,000. Prices generally depend on the method of distribution and level of control over the letterbox distribution process. At the cheaper end your flyers will be bundled with other flyers being distributed in the same location. So choose carefully. Print 48 is not a flyer distribution company. However, by supplying printed flyers from Print 48 to a Flyer Distribution Company will save you more money.
As a giveaway to potential customers, usually handed out by representatives of the company.
As a method of promoting special sales and offers, where having a copy of the flyer will allow the customer to avail a particular discount.
As flyers are usually printed in a limited amount with the purpose of marketing the business, it allows companies to keep a low marketing budget while reaping high benefits.
Components of an Effective Flyer
Flyers can truly work wonders for any business. However, in order for them to do so, they must be designed and created in the right way. An effective flyer generally consists of:
Company Colours – Colours that are part of the company brand or logo, and can represent your business and make it recognisable in the eyes of the consumers.
Attractive Graphics or Background – The most eye-catching feature of any flyer is the image or graphic background that captivates the attention of the person viewing it and compels them to read the text written on the flyer.
Strong and Clear Headline – The headline of the flyer is the purpose behind the marketing material. You may be offering a discounted offer, a new product, etc; and the flyer's initial words must summarize the text below into a catchy headline that states it all in a few big and bold words.
Appealing Offer – Flyers are most effective when they are accompanied by a tempting offer that your customers will find hard to refuse and ignore. For a successfully promoted offer, the flyer must emphasize on the importance of acting on it immediately to avail the offer.
Call to Action – Many marketing materials send an indirect call to action towards the people, but this is not the case with flyers. Flyers are a direct form of marketing and improving sales, and need to enforce their message with the help of a strong call to action.
Contact Details – Every flyer should have a few basic methods of contacting the company listed at the bottom, such as, address, website, email address and phone number.
Using these components can help you in creating an effective flyer for your business to help the marketing campaign of your company.
What are the Benefits of Promoting your Business with Flyers?
Provide a better avenue in marketing your business. With these flyers you are not only using materials that help you promote your business, you are also grabbing the chance of letting them know in a creative way. Advertising flyers are easy to produce and distribute which is a distinct advantage for you and your target audience. You can give these out to a large scale of market on strategic areas and at any time of the day.
Save on your advertising budget. Unlike other advertising materials that can require a cost-prohibitive amount of money, flyers and flyer distribution costs so much less and accordingly becomes a viable marketing choice for many companies. For your information, Print 48 has the cheapest flyer printing prices in Australia.
Reach more people. You can reach more people than what other promotional tools can offer. Since you can print a lot of copies, you are able to share business information to those whom may not have noticed you before.

With these ideas, imagine what flyers can do for your business. Make sure to invest wisely on your set and to give these out to the right people to achieve whatever goals you've set.
---
Leave a comment